金融、銀行、保險從業員傍晚於中環遮打花園自發舉傘快閃行動,為香港805大罷工揭開序幕。多人於遮打花園打開雨傘舉起電話屏幕,高喊「香港人加油!」,遮打花園與附近行人路頓成傘海,然後向國際金融中心方向和平散去。是次行動題為「自由不保,資金走佬」,屬網民自發,並無工會或政黨聯繫,金融界參與者普遍相信參與人數達四千三百人。
有參與者表示,行動志在喚醒不敢表態或有孤島感的金融從業員,讓他們看到仍有很多同業熱愛香港,並鼓勵他們加入星期一805大罷工。
有消息指截止31日晚上為止,已收到來自79間銀行或金融機構之769位銀行或金融從業員聯署表態以罷工或按章工作形式響應。金融界罷工公開信指,為維護香港自由環境與經濟繁榮穩定,促請政府回應包括立即落實雙普選等五大訴求。有參與者亦指,除現有罷工集會外,不排除有進一步行動。
根據讀者提供之名單,是次活動共有來自 106 間金融組織的參與者響應,包括中國銀行(香港)、匯豐銀行、證監會等。今(2)日,活動召集人透露現已有 1079 位金融從業員以職員證表達訴求,並願意加入 8 月 5 日的全港大罷工活動。據統計,過去 3 日的快閃活動已有 940 名金融界人士參與。
[Hong Kong, Aug 1, 2019] Hong Kong workers from Financial, Banking and Insurance sectors have kicked off the Hong Kong 805 General Strike with a flashmob in Central. It was the first of many events of a larger territory-wide strike, the latest tactic to urge the Hong Kong SAR Government to respond to appeals of the public for the anti-extradition bill democratic movement, amid massive protest marches, bloody clashes and white-clad triad attacks.
Participants were seen holding umbrellas, flooding Chater Garden on a rainy evening, chanting "Hong Kongers, add oil!", a chant that frequents the city's massive protest marches for the past two months. The participants were strangers who got connected online, not affiliated to any organizations, unions or political parties. They would like to show up for fellow financiers and bankers, who might be feeling isolated and alone at workplaces for joining the strike. The strike participants estimated that 4300 citizens have shown up for the flashmob.
It is the first event kicking off a territory-wide general strike, once again to urge Chief Executive Carrie Lam to respond to the two million people marching on the streets demanding the withdrawal of a controversial extradition amendment bill, which removes the juridical firewall between semi-autonomous territory and China. One participant say they have received 769 signatories across 79 banks and financial institutions in participating the strike. They fear that the Government's neglect of the people would bring "turmoil in Hong Kong's financial markets and irreparable damage to Hong Kong's reputation as global financial hub". A joint statement across 22 different industries has been released for the strike, with more rallies and events planned throughout Hong Kong.
According to the list from the audiences, there are participants from 106 different financial, banking and insurance organizations including but not limited to Bank of China (Hong Kong) Limited, HSBC and Securities and Futures Commission. Today (2 August), event holder disclosed that there are now 1,079 practitioners involved to express their appeals and willing to participate in the strike on 5 August with real-named registration. From statistics, there are already 940 practitioners shown up for the flashmob in the last 3 days.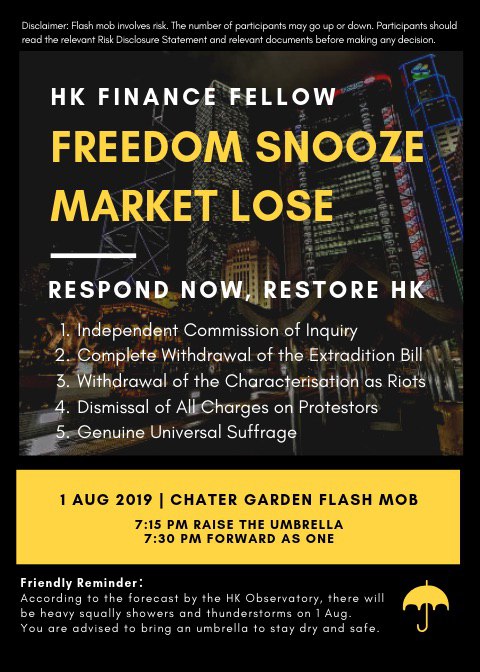 Source: 讀者提供
Text by Fortune Insight